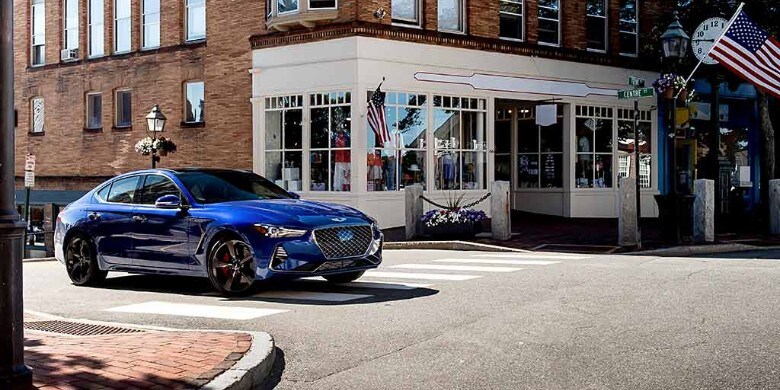 Genesis is Hyundai's luxury car brand. Introduced to the market in 2009, the Hyundai Genesis sedan quickly made a name for itself. It captured the attention of the media and consumers alike. In fact, a panel of United States and Canadian automotive journalists bestowed the "North American Car of the Year" award on the Genesis the same year it debuted. 
After two generations of Hyundai Genesis -- from 2009 through 2014 and 2015 through 2016 -- the automaker launched it as a brand dedicated to luxury. The Genesis marque now features a number of options including the G70, G80, GV80, and G90. 
5 Reasons to Buy a Genesis
The Genesis nameplate continues to gain in popularity. There are a number of reasons why it appeals to the luxury car market with just a few highlighted below. 
1. Luxurious Interior
As striking as a car's exterior is, it's the vehicle's cabin that you typically interact with a great deal more. Genesis boasts a luxurious interior that both looks and feels upscale delivers the kind of premium experience you expect from a luxury car. 
Combining excellent quality materials and a layout that keeps frills to a minimum provides you with a sophisticated environment that is spacious, airy and open. The result is an elegance haven from all the hustle and bustle of a busy life. 
2. Safety in Numbers
The Genesis brand puts safety first with the inclusion of numerous standard and available safety equipment. A sophisticated system of airbags, as well as driver assist features like Forward Collision Avoidance Assist, Smart Cruise Control, Lane Keeping Assist, Blind-Spot Collision-Avoidance Assist, and a Driver Attention Warning system provide the comfort and safety you need when enjoying a Genesis. 
Electronic stability control, integrated turn signals, four-wheel ABS, traction control and auto-leveling headlights are just a few of the safety features that are built into the Genesis design. The two primary crash testing entities in the United States -- the Insurance Institute for Highway Safety (IIHS) and the National Highway Traffic Safety Administration (NHTSA) -- have both been extremely impressed by the Genesis' performance during their tests. 
The NHTSA safety ratings gave Genesis a five-star overall rating. Genesis also received a perfect five stars in its frontal crash, side crash and rollover tests. During the IIHS tests, Genesis was awarded a "Good" rating. Additionally, the IIHS also named some Genesis models as Top Safety Picks. 
3. Opulent Features
Choose a car with the right kind of features and your daily commute can quickly go from the mundane to something that you look forward to every day. The luxury class of vehicles is typically where these types of equipment are found. 
Looking at other luxury brands and Genesis, you'll see that there are similar amenities found in the latter. Standard features like leather upholstery, power-adjusted and heated front seats, dual-zone automatic climate control, and leather details on the door and dash make you relax along your ride. You'll stay entertained with a seven-speaker sound system and satellite radio. 
Opt for some available features and your Genesis experience will escalate. Auto-dimming exterior mirrors, panoramic sunroof, power sunshade for the rear windshield and ventilated front seats are just a few of these additions you can add. 
4. Spacious Interior
If you're looking for a spacious sedan or SUV to carry the family to trips far and wide in luxury, Genesis has you covered here as well. There's plenty of legroom throughout the vehicle -regardless of where the passengers sit. Both the front and rear seats are comfortable and supportive. You'll also find nearly 16 cubic feet of cargo space in the sedan. 
5. Superior Value
Genesis has the premium appearance of other luxury brands in its classes such as Porsche, BMW, Mercedes-Benz, and Audi. What the Genesis nameplate doesn't have that these other luxury vehicles do is a huge price tag. Purchase a Genesis and you'll get all the opulent amenities found in the competition without the hefty luxury car price. 
Genesis ticks all the luxury vehicle boxes without the luxury car price tag that you might be used to. Head to Palm Springs Genesis today, browse through their extensive selection and choose one to test drive.